MAJESTIC TOWER
THE HOBLITZELLE SUITE
---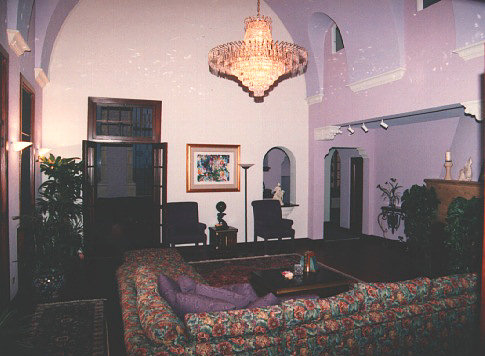 Hoblitzelle Suite Living Room.

A view of the Living Room of the Penthouse. This main room has 20 foot ceilings, a fireplace, and two enclosed side porches - one of which, the East Porch, is visible in these first two photos. These porches were originally open, and provided a constant cross-breeze through the whole main floor. However, during the refurbishment it was decided to enclose them by installing thick-paned glass in the open window area, and allowing them to become a permanent part of the main Living Room area. The cross-breeze is now provided by 10 tons of efficient air-conditioning!
---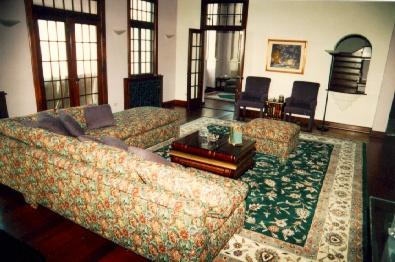 The Empire Suite Main Entrance.

This photo was taken from the main entrance to the Penthouse. The double doors in the center of the room (at the far left in the photo) lead to a balcony overlooking Houston Street - 15 floors below.
---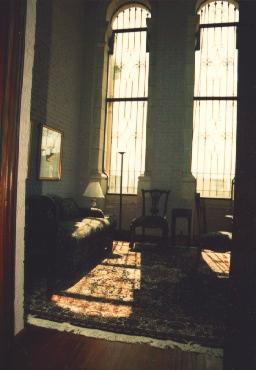 Afternoon Light.

An afternoon view in the Hoblitzelle Penthouse. The immense 15 foot windows with their custom-designed wrought iron bars provide an excellent view of the San Antonio skyline..
---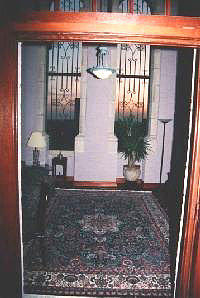 Penthouse Sunset.

A sunset view of the West porch in the Hoblitzelle Penthouse.
---
All text and photos on this page and all other pages on this website:
© 1997 - 2023
Nicholas Van Steenberg
& Towers at the Majestic. All rights reserved.